09 Sep

An inside look at the New Orleans real estate market and why prices are going up

Posted at 08:14h

in

Press
The home-buying experience for the Williams family says a lot about the state of the metro New Orleans housing market, where prices for most single-family properties have held up through the coronavirus pandemic even as unemployment surged and the economy staggered.
Will Williams, together with his wife Rachel and their four young children, were looking to return to New Orleans from Vermont this summer after Will took a job at Ochsner Baptist Medical Center. He had completed his four-year obstetrics residency in New Orleans three years ago, so he and Rachel had a clear idea of what they were looking for: a house big enough to accommodate their family of six, somewhere in Mid-City, where they'd lived previously.
But once they started looking, there were hardly any properties that fit the bill.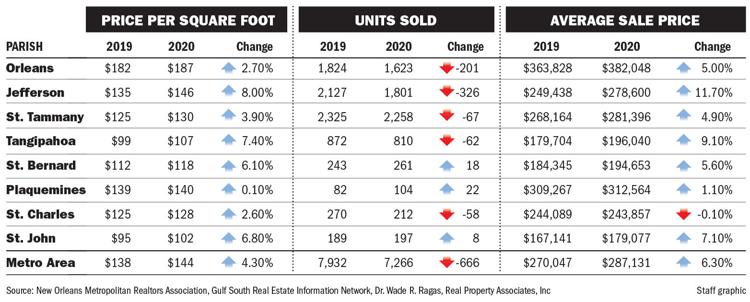 "In the April-to-early-May period there were just very few listings that came on the market. It seemed like people were hesitant," said Williams, who had expected to find more properties available given the state of the economy.
Indeed, data from the New Orleans Metropolitan Realtors Association bear this out. From March through August, the number of houses being put up for sale in the New Orleans metro area dropped 30% to 40%. The number of sales declined by more than 8%. But while supply cratered, the demand for houses held up fairly well, according to real estate agents, thus pushing prices higher in almost all parishes.
The average single-family home price for the metro area as a whole rose by more than 6% compared with prices in the same period last year, to more than $287,000, according to the data.
Of the three most active parishes, Jefferson saw the biggest price bump, with the average sale price there rising by nearly 12% to just below $279,000. Orleans Parish remained the most expensive, with average house prices rising by 5% to $382,000, or $187 per square foot.
St. Tammany remained the busiest parish, with more than 2,200 houses sold in the six-month period, hardly dropping off at all from last year's brisk pace. Average house prices in St. Tammany rose by 5% to just above $271,000.
"All over the country this is how the housing market is behaving," said Wade Ragas, a real estate consultant and professor at University of New Orleans. "A decline in the number of units sold, generally units in fairly affluent neighborhoods, and a rising average price that is substantial. These are pretty strong numbers."
Buyers like Williams are part of the reason the market has remained robust. He was moving because of a new job and had to find a house, whether there was a pandemic raging or not. His wife Rachel didn't want to have two moves with four small children, one into a rental and then again into a house later on, he said.
So, six weeks into their search, when the right house popped up on Cleveland Avenue in Mid-City, and after a series of virtual tours and an in-person look around by their friend David, they pounced.
"The place had popped up on a Friday, late," said Williams. "We had an offer in that night and signed a contract that week."
Data tracked by Latter & Blum shows that houses that do come on the market have been selling quickly in the last few months and almost always at or above the seller's asking price.
"I don't think in my lifetime I've ever seen a market like this," said Lacey Conway, Latter & Blum's CEO.
Conway said that while Jefferson and St. Tammany parishes have seen a decline of well over 40% in the number of houses being put up for sale, Orleans Parish has seen a decline of only half that.
Orleans Parish has felt the brunt of the economic downturn caused by the coronavirus shutdowns, particularly in the tourist-driven parts of the economy where hotels and restaurants and related industries have laid people off by the thousands.
Still, house prices in Orleans Parish have stayed relatively firm. One reason for that likely is the fact that the brunt of the downturn has been felt in the hospitality sector, where workers are generally lower-paid, and rarely in a position to be home-buyers, said Aaron Dare, a partner at Crane Real Estate Brokers.
"It is sad but true and something we've talked about a lot in our office," said Dare. "The fact that the pain has been borne disproportionately by the service industry, the hospitality industry, that base of the working class — and I feel terrible saying it — has proven out that they have little effect on the housing market, at least in the short term."
What happens over the next several months is as unpredictable as the last six months were, agents said.
There is broad agreement among brokers that the single most important factor propping up the market has been the fact that the Federal Reserve has kept interest rates low to promote borrowing, spending and investment. It has meant historically low home mortgage rates for borrowers.
"That's a huge driving force, it's nearly free money," said Ragas. "The strong economy we had before and the reason it's coming back pretty well now is tied to the extraordinary low interest rates and the huge amount of cash the government has put into the economy," he said, referring to the trillions of dollars of aid to businesses as well as payroll support from the federal government during the pandemic.
Nonetheless, the risks for the housing sector are growing, Conway said. "I do think in November, December we're going to see a bit of a compression," she said. "There's been so much activity and the pace has been so quick that I just think with everything going on in the wider world — the election, unemployment, COVID, all these things adding up — we're going to see a slight but definite compression."
Ragas agrees that the uncertainties are piling up.
"People may look back at these single-family house prices they've bid up so strongly and be concerned how dependent it all is on … the Federal Reserve," Ragas said. "At some point that has to end and when it does it will let the air out of those inflated house prices."
https://www.nola.com/news/business/article_538e9fe4-ed6f-11ea-9091-27305d8a5ddc.html